This is truly the ultimate dipping oil for bread recipe you will find. If you like bold flavors that scream authentic Italian, this appetizer or side dish will wow your family and friends.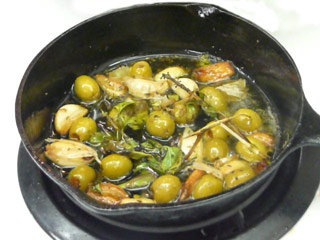 In fact, you may find it difficult to stop eating this and end up turning it into your main dish. All the Italian bread you put out, will get eaten. With this recipe, there are never any leftovers. It's really that good.
The bonus is that's its so healthy for you too. So enjoy this delicious easy to make garlic olive recipe often.
This recipe is also known as: olive oil dipping recipe, garlic dipping sauce recipe, Italian dipping oil recipe for bread, garlic oil recipe and bread dipping oil.
Ingredients
| | |
| --- | --- |
| 1 cup | Extra Virgin Olive Oil |
| 3/4 cup | Olives pitted or not. (Any Italian Olives are fine) I like to use a mix and make it more colorful. |
| 1 or 2 | Bay Leaf |
| Tons | Garlic (ok maybe 2 bulbs are enough) |
| | Salt |
| | Pepper |
| | Fresh Basil |
| | Fresh Oregano |
| | Romano Cheese |
| | Italian seasonings (dry stuff) |
| | Red Pepper flakes (optional) |
Directions
Start by getting a frying pan. If you have one, it's best to use a cast iron one. If you are planning on making this recipe often, invest in a small cast iron skillet with sides high enough that will keep the oil in.
Peel all the garlic and put half to the side. With the other half, slice and chop to all different sizes. Put the skillet on low heat and add 1/2 cup of the extra virgin olive oil. Now add the whole peeled garlic and 1/2 of the olives and bay leaf. Let this heat until the garlic gets a touch of brown color. At this point add the fresh chopped oregano, salt, pepper, Italian seasonings and if you can get it, add basil stems - save the fresh basil leaves for later. Now add the rest of the garlic and olives. Now add the rest of the extra virgin olive oil and red pepper flakes. Next, move the skillet into the oven. You do not need to preheat. Set the oven to 275.
While it's in the oven, you can prep the bread that will be used for dipping. Use a hearty Italian bread (not that soft fluffy stuff). Take the entire loaf and cut it in half like you are making garlic bread. The long side so that you have 2 flat pieces.
If it's really think, cut it to 3 equal sizes. Next take all the fresh basil leaves and chop well. After about 10 minutes, add the basil to the garlic olive oil and at the same time, put the bread in the oven as well. Keep a close eye on it and take out the bread when it is just lightly toasted. Next take out the bread and chop it into various sizes for dipping and place them all in a bowl. Take out the garlic olive oil. At this point you can add additional extra virgin olive oil to taste as well as salt and pepper.
Now serve it in 1 or a few dipping bowls. You will need a large spoon in order to do this to make sure you place an equal amount of olives and garlic in each bowl. You can also sprinkle some Romano cheese on the dipping bread and the garlic olive oil.
Here are Some Other Resources to Quality Products
Sausage Pizza Recipe | Meatball Recipe | Sicilian Toast Recipe